Recovery Review: Cryospa!

Warning: Trying to access array offset on value of type bool in /var/www/wp-content/plugins/yikes-inc-easy-mailchimp-extender/public/partials/shortcodes/process_form_shortcode.php on line 249


I recently had the opportunity to have a session in a Cryospa. Cold therapy is nothing new. It is perhaps the most utilized method of recovery in one form or another. Ice baths and ice packs have been used for decades to treat minor and acute injury and help athletes recover from tough sessions. There are now much more advanced forms of cold therapy commercially available. We have many new tools such as cold compression/pump garments and cryospas. The cryospa is very much like an ice bath except it has integrated water jets. This allows for a steady flow of cold water around the body. In the past the water adjacent to the skin would warm up a little with body heat. While a very small factor, this has now been overcome. In addition these jets help add a massage effect into the mix.

First a little theory behind cold therapy. The main mechanism is thought to be vasoconstriction. In reaction to cold stimulus our body constricts blood vessels to reduce blood flow to cold regions of the body. It redirects blood flow through vasodilation back to the core to help maintain core body temperature by reducing the blood's exposure to cooler temperature. Doing this is thought to help reduce swelling around injuries and also force metabolites in the blood produced from heavy exercise away from the muscle. It is also thought that once the cooled areas begin to warm blood flow is increased as constriction ceases. It is theorized that this returning blood from the body's core and organs is oxygenated and carries a fresh supply of nutrients to help aid recovery. For this reason cold is often used in conjunction with heat which has the opposite effect of promoting bloodflow.

Cooling the body is thought to help switch the body from sympathetic to parasympathetic. In short it goes from fight mode to rest mode. This should help athletes to relax and sleep after exercise. It will also allow digestion to become more efficient helping refuel the body. This downregulation of the body's nervous system can be very important in the recovery from exercise as this is when adaptation is most likely to occur.
While there are some solid theories and evidence behind the use of cold therapy there is also some conflicting research. Some argue that cold therapy may interfere with the body's natural recovery mechanisms. This review will not become a critical analysis but it is important to note there is some valid disagreement in the literature.
In order to get the most out of the session I decided from my own knowledge and opinion that it was muscle soreness I wanted to examine. Soreness from training or delayed onset muscle soreness (DOMS) is extremely common in athletes. In the days prior to the session I decided I would try and induce as much DOMS as possible so I could see how the cryopsa helped reverse or reduce it. I did the things I know cause soreness for me and it was not a schedule I would recommend to anyone. It was designed purely to enduce soreness and not for any training benefit. My training looked like the following.
Day 1- Lower body strength training (Focus on Intensity)
            5X5 Heavy deadlift @85%approx with 2-3 minute rest
            3X 15 Split squat supersetted with Walking lunges with 1 minute rest
            3X Rounds of 5 reps Front squat @50%, 10 Jump squats, 15 bodyweight squats with 1min rest
Day 2- Sprint intervals
            10X 20m sprint walk return rest
            5X 200m with two minute rest
Day 3- 60minute TT cycle with hills.
I was sore after day one but day two and three really built upon that initial session. After the cycle on day 3 my legs felt dead and aching. I felt tight and my glutes and quads had definite soreness moving around. Range of motion was also quite poor due to the tightness. On the afternoon of Day 3 I had my session in the spa.
The spa itself can be filled with epsom salts and magnesium which are also thought to help increase rates of recovery. I was given little neoprene booties to keep my toes from going numb. The water temperature was 4°C. Stepping into the spa was pretty unpleasant as expected. I felt winded and wanted out. This died down after a minute. I was submerged up to waist level but it can also be done with only ankle and knee submersion or all the way up to the shoulders. The whole cycle lasted 10minutes with the jets on full blast. The jets definitely made it feel colder than a standard DIY ice bath.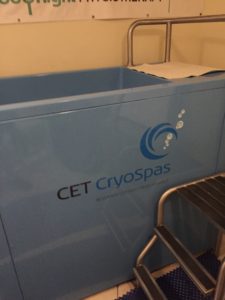 When I left the spa my legs were cold and a little numb. As the heat came back into them they definitely felt fresher than when I walked in. Over the course of the day as they heated back up I didn't really notice any major soreness which was different to before I completed the session. It almost felt like the cycle session was removed from my week in terms of it's after effects. The dull throb and deadness was gone from my legs and I felt a bit freer moving around. I did feel a little stiff still and there was still a bit of soreness but not quite as bad as before. I would love to have done some performance measure but there is plenty of literature out there and I wasn't looking to do a full experiment. This was to satisfy my own thoughts and curiosity.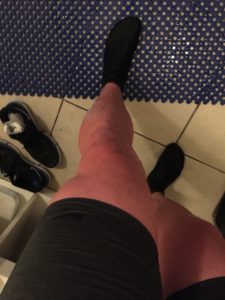 The bottom line is I have some doubts on cold therapy as with most things. In saying that I genuinely felt the spa session took an edge off my soreness. If I had full access I would definitely utilize it on a regular basis. This is a very subjective opinion but one cannot discredit the mental impact of recovery. If an athlete feels better and fresher regardless of their actual physiological recovery it is a major benefit.
Different things work for different people and there are tools and methods I simply find useless. The Cryospa is not one of those. I highly recommend trying it or something similar. See how you feel and if it works for you. A lot of being an experienced athlete is trial and error and simply learning your body. A certain amount of individual experimentation is necessary to do so.
I would like to thank Bodyright Physiotherapy (http://bodyrightphysio.ie) and Cet Cryospas (http://www.cetcryospas.com) for the opportunity to try something new. I hope some of those who read this may find my experience useful to them and encourage them to experiment with things for themselves.
If you liked this article please share it and don't forget to subscribe to our newsletter below.